DESCRIPTION
While you may be socially distant there's a 100% chance you're gonna be seriously entertained when this package of happy mail shows up at your doorstep with all the isolation essentials. Being that you're basically a house plant with more emotions we suggest sipping the Patio Party Time Tumbler from the comfort of your very isolated outdoor area or balcony and whipping out our best-selling markers and notebook to doodle a bit.
What!? You still need Vitamin D somehow! Needing a charge while you're at it? This package includes a cord taco to keep your tech from tangling and a lightning fast charger compatible for iPhone and Android to pop into your USB. That's not it though, we know social distancing can be a bit lonely so we included a confetti heart sticker to pop on anything you own and make it a little brighter.
As if that was enough, this fun package to send to yourself or a friend gives back 50 meals to Feeding America when you purchase it. Pretty cool, right? Happy social distancing!
SPECIFICATIONS
Package Includes:
Patio Party 24oz Tumbler
Make A Mark Marker Set
Star Power Mini Notebook
You Got the Power Charging Set
Heart Confetti Sticker

Reviews
Customer Reviews
Write a Review
Ask a Question
05/01/2020
Mattie B.
United States
Social Distancing with my favorite Co-workers
I sent two of these packages to the school social worker and speech pathologist on my special education team. I miss them so much and thought this was a cute idea. They LOVED them. Everything is so adorable and can be used by us teachers during this time of eLearning.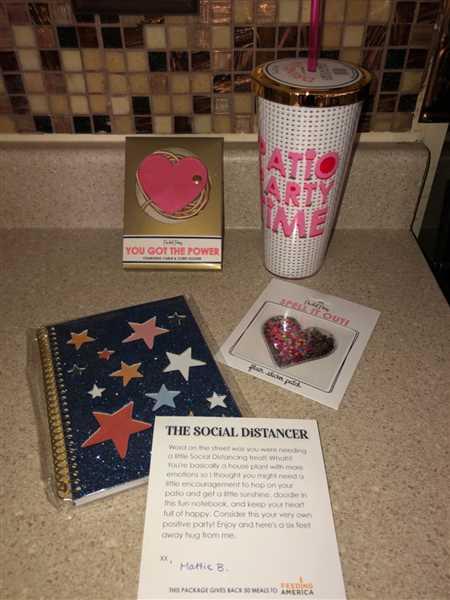 TO
04/15/2020
Taylor O.
United States
The best gifts!!!
My all time first stop for gift giving!! Best gifts ever!